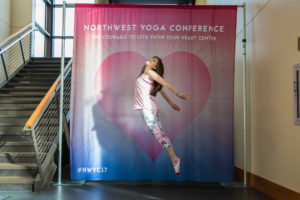 Thank you for your interest in helping to spread the word about the Northwest Yoga Conference throughout your yoga community.
This opportunity is perfect for yogis who:
-are dependable
-self-starters
-good communicators
-organized
-are passionate about the Northwest Yoga Conference and our community
-are comfortable with sharing information about the conference via e-mail, social media and in-person with their friends and family as well as with other yogis
We also prefer yogis that have attended the Northwest Yoga Conference before but are willing to consider enthusiastic applicants who have not attended.
The Ambassador program is based on a point system. For each promotional task you complete, you receive a certain number of points. Every 10 points that you accrue can be redeemed for a 1-day pass to the Northwest Yoga Conference. This allows ambassadors the freedom to choose the promotional tasks that resonate best with them and provides flexibility in the amount of time an ambassador dedicates promoting the conference. Preference will be given to applicants who are interested in attending multiple days of the conference.
Sample promotional opportunities include posting on social media, distributing flyers throughout your community, hosting a promotional yoga class (we will help you with this), calling attendees or writing a blog post.
To be considered for our Ambassador position, please submit an application. We will accept applications until November 30th.
Ready to apply?  Click here.