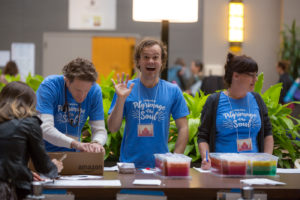 About Volunteering
Thank you for your interest in volunteering in the seventh annual Northwest Yoga Conference!
Please read the following information carefully before submitting your Volunteer Application.
Schedule
Volunteers must be available between Wednesday, February 21 through Sunday, February 25th, 2018. You must be available for the entirety of the conference.
Responsibilities
The majority of volunteer work will include name badge and swag bag assembly, registration, workshop admittance, set up and take down. We ask our volunteers to make a contribution to marketing by placing 10 flyers up around their town. We also ask volunteers to review a short packet of info about volunteer responsibilities before they arrive on Wednesday, February 21st.
Rewards
Our goal is to provide each volunteer with at least two workshop shifts per day (you can attend the workshop after checking in participants). We also strive to ensure that you are checking in participants at workshops you would like to attend. Please note that this may or may not be possible for each volunteer based on the needs of the conference. Volunteers will be provided with free entry to the conference workshops (when they are not scheduled to work and as space allows), lunch and a t-shirt.
Investment
There is a $50.00 fee required in order to reserve your volunteer spot. The funds will be directed towards expenses to equip each volunteer with necessities for the conference.
Application Due Date
Applications are reviewed on a rolling basis and will be accepted until October 31, 2017 or until all positions are filled. They will be reviewed and responded to by no later than November 15, 2017. If you are accepted as a volunteer, the volunteer deposit will be due upon acceptance and is payable by check or cash. Cancellations and refunds will be dealt with on an individual circumstance.
Questions
If you have any questions about volunteering, please direct them to Julie at volunteer (at) nwyogaconference.com.