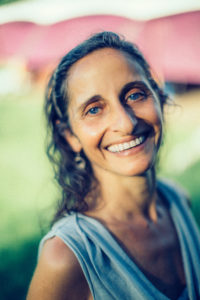 Make Your Practice Whole
with Maty Ezraty
With enthusiasm and clarity, Maty will guide you through a process of positive change — physically, mentally, and energetically. It's the alchemy that happens when we slow down, get quiet, and tune our attention to our practice with relaxed focus and concentration. From that centered place comes an organization of thinking, feeling, and sensing that expands our understanding of what we are doing and why.
As we let go of physical and mental tension, suddenly we can take shapes that we would never expect. We are able to do more — more than we think we can — and our confidence builds. This inner confidence is one of the great gifts of a deepening practice — empowering us in every area of our lives.
Practical Steps Toward Wholeness Include:
• Find freedom from the habit of pushing too hard and be surprised by strengths and abilities that you didn't know you had.
• Gain a new understanding of how certain poses combine and explore ways to build on that understanding for years to come.
• Round-out your yoga practice, making it a healthier and more complete practice in ways that are meaningful to you.
Breath by breath, rediscover the sweetness of yoga and return home feeling more intimately connected — to yourself, to others, and to the world around you.
Continuing Education: 6 hours
Only $139 for the entire day!
Click here to register.
About Maty Ezraty
Maty Ezraty is a prominent figure in the evolution of modern yoga. She was one of the first women to study Ashtanga Yoga intensively with Sri K. Pattabhi Jois and also one of the original founders of YogaWorks, where she directed and shaped the YogaWorks Teacher Training program for more than 16 years and trained many of today's leading yoga teachers. Maty's practice–and consequently, her teaching–is steeped in both the Ashtanga and Iyengar traditions. In addition to over 25 years of dedicated Ashtanga practice, Maty has also devoted more than 27 years studying with many senior Iyengar teachers, including Dona Holleman and Gabriella Giubilaro. Maty has also spent several years studying vipassana meditation at Spirit Rock and the Insight Meditation Society.
Get to know Maty through her interview below: