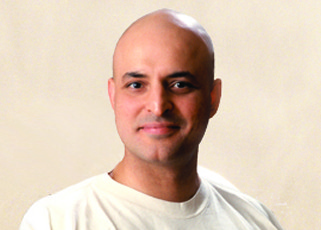 By Katie Vincent
The flow of yoga has surrounded Aadil Palkhivala since day one. Not many practitioners can claim that they were conceived by the tradition they preach. Aadil Palkhivala is one such individual with karmic ties to yoga; his mother struggled with fertility for seven years until she began studies with B.K.S. Iyengar, which she continued throughout her pregnancy and brought Aadil from age three onward. At age 22, Aadil was awarded an advanced teacher's certificate by Iyengar himself.

Co-director of the Alive and Shine Center in Bellevue and the College of Purna Yoga, Aadil continues to share his life-long passion for authentic living with yoga teachers and practitioners worldwide. Also holding degrees in physics, math, and law and extensive studies in bodywork, hypnotherapy and Ayurvedic medicine, Aadil brings a diverse perspective while working to restore what he calls the "essence" of yoga–the main goal of his Purna yoga teachings. In his book Fire Of Love, Aadil preaches a reconnection with the heart's message through all eight limbs of yoga.

What is Purna Yoga?
"Purna means 'complete.'' It is an authentic, lineage-based yoga which consists of four petals: Alignment-based asana and pranayama, Heartfull Meditation™, applied philosophy, and nutrition and lifestyle. All these are steeped in heritage and adapted for our modern lifestyle by over a half century our personal experience. The lineage of Purna Yoga comes from Sri Aurobindo, B.K.S Iyengar, the Veda, Patanjali, Ayurveda, and other ancient nutritional systems.
What makes it unique?
Many systems of yoga focus on either asana or meditation or Samadhi or simply a workout. Purna Yoga addresses all aspects of the human being and therefore is not merely asana-based, nor only meditation focused. It is a complete system for building a deep and honest relationship with ourselves, the people we surround ourselves with, and the world as a whole.
How do your studies of math, physics, and law inform your teaching?
Yoga is about cultivating the whole human being. An essential part of that cultivation is the development and use of the mental faculties. Historically, yogis were extremely intelligent, focused and prized knowledge. They were well versed in mathematics and sciences, as well as the arts. Having trained in many other science and art fields makes my teaching more clear and accessible to different ways of thinking. Also, it makes Purna Yoga teaching more inclusive than exclusive.

What do you feel is "lost" in modern yoga?
The lost essence of yoga is the living of yoga in day-to-day life. It is about being more present, rather than running away from living. Much yoga is merely asana; though asana is crucial, it is not yoga. Yogis often try to get into a space of consciousness to avoid life challenges. This is an escape and is not yoga. Also, yogis often deny the world and wealth and this flies in the face of vedic knowledge. The one thing that every practitioner would be helped by would be to sincerely embrace Svadhyaya and examine every thought, word and action that the practitioner thinks, speaks and does. Additionally, the reach for beauty creates joyfulness and equanimity. This is why, in Purna Yoga, we surround ourselves with more joyful colors and keep our environments as beautiful as possible.
Have you ever embarked on a pilgrimage?
Here I would like to quote my teacher, Sri Aurobindo in his book, "Savitri":
'Make of thy daily way a pilgrimage

For through small joys and griefs thou movest toward God.'
So, yes, a lot of pilgrimages, and the preparation for each is the Purna Yoga practice of integrity, joy and love from the prior day!" 
To learn more at the Northwest Yoga Conference, attend Aadil's 'Living the Eight Limbs of Purna Yoga' workshop on Friday, March 4 at 9:00am or his 'Strengthen Your Legs, Strengthen Your Spine' class on Saturday, March 5 at 12:00pm. You can also catch him on Saturday at 2pm on the panel discussion: 'On the Pilgrim's Path: The Journey of Self-Discovery Through Yoga.'