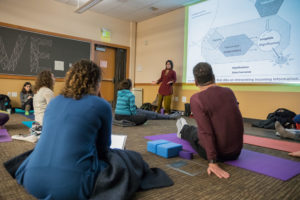 With so much increasing need for safe, informed, attuned, sensitive, adaptive, inclusive, and culturally competent care, yoga is being considered a vital resource in settings where such care is needed. We provide yoga programs in prisons, hospitals, schools, and rehab centers. We also have requests to provide yoga in mental health triage centers, immigration centers, and domestic violence shelters.
While yoga provides a body-centered, brain-nurturing, stress-reducing experience, and develops the life skills tool kit our community members need to move from struggling with surviving to learning about thriving, HOW yoga is provided has a significant impact on its efficacy.
This trauma-informed, brain-sensitive yoga training responds to the rising needs and prepares teachers for HOW to deliver truly effective yoga.​
Students will learn the neurological, physiological, and psycho-spiritual workings of yoga for the brain, body, mind, and heart.
+ trauma-informed principles for the triune brain and polyvagal systems.
+ mindfulness-tools that help acclimate students' to increasing levels of safety and self-awareness.
+ breathing practices to disarm over-active (rajasic) or to nourish under-active (tamasic) nervous systems.
+ integration of right and left brain aspects for yoga practices.
+ essential relationship skills based on attachment theory and brain development.
We will also focus in skill development, in real time. Sarahjoy will support the development of your:
​+ Voice prosody, pace, and purpose.
+ Language choices and strategies.
+ Personal and interpersonal resonance.
+ Compassionate responsiveness (not enmeshment).
This one-day session includes a 110 page manual and workbook.
Continuing Education: 6 hours
Only $139 for the entire day!
Click here to register.
About Sarahjoy Marsh
Sarahjoy Marsh, MA, E-RYT-500 yoga teacher, therapist and author, is a vibrant, compassionate catalyst for transformation to those that suffer from addictions–in particular, disordered eating patterns/emotional eating. The combination of her ability to identify when a conditioned mind crowds out clear thinking and to inspire the courage to bring insight into action, her knowledge of powerful yoga and mindfulness tools, her perspective on the terrain of the stages of recovery and the tools to use along the way to recovery make her methodology (outlined in her book Hunger, Hope & Healing: A Yoga Approach to Reclaiming Your Relationship with Your Body and Food) a comprehensive and effective healing modality. Her 25+ year training and facilitation background includes transpersonal counseling, art therapy, and community mental health, the psychology of yoga, Ayurveda, and rehabilitative yoga. Committed to supporting marginalized populations and using yoga for social justice Sarahjoy founded two non-profits, Living Yoga and the DAYA Foundation.