by Jill Rivera Greene, Conference Blogger
Pilgrimage is a spiritual tradition that has persisted for millennia and can be found in nearly every major religion. Whatever their destination, all pilgrims share a common desire for transcendence—through contemplation, an experience of awe, or a glimpse of the divine.
Although the word itself carries the faint whiff of an exotic locale, a pilgrimage does not have to be difficult or long. An inward journey can be just as meaningful as a physical trek.
Melissa Phillips-Hagedorn, founder and director of the Northwest Yoga Conference, has this to say about her own recent pilgrimage:
This summer, I attended a 9-day meditation retreat at Cloud Mountain Retreat Center in southwest Washington. As it was the first retreat that I have ever attended, I had no idea what to expect. Though it was certainly challenging, I am so grateful that I created the space to attend. The retreat allowed me to know myself on a much more intimate level than I ever have before and provided support in continuing to nurture wholesome qualities.
The retreat she describes has all of the necessary qualities of a pilgrimage, including an intentional separation from the familiar, time and space for deep discovery, and lessons brought back to enrich one's everyday life.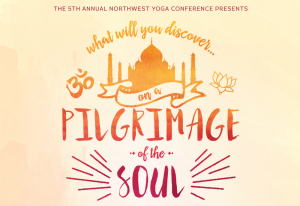 That's why it felt so right when Melissa announced that the theme for the 2016 Northwest Yoga Conference would be, "Pilgrimage of the Soul." Attending last year's Northwest Yoga Conference truly felt like a pilgrimage to me! I had been practicing asana for about a year, but I had not yet experienced anything like this three-day immersion into yoga philosophy, community, and practice.
Making the commitment to leave behind my daily routine of home, work, and kids for three days was challenging. But by stepping into new and unfamiliar territory, I discovered so much—from a fresh appreciation of the Bhagavad Gita, to an expanded village of fellow yogis, to reservoirs of physical strength and stamina I didn't realize I had … along with, yes, a few new sore muscles! The experience definitely took my commitment to and practice of yoga to the next level.
This year's conference offers a similar opportunity for all who are willing to take the first step. No matter where you are in your yoga journey—from beginner to advanced student, teacher or studio owner—there is a full schedule of workshops waiting to support you on your path to the soul. Registration is now open, and you can check out the schedule here: http://nwyogaconference.com/full-schedule/
And you don't have to wait until March to get started! Keep an eye on this blog over the next few months as we interview conference presenters about their own pilgrimage experiences and share tips to help you prepare for your own. You can also share your own pilgrimage stories via our new Comments feature, coming soon.
We can't wait to hear what you discover! Namaste.