By: Jill Rivera Greene, conference blogger
Happy New Year, yogis! It's January, and the conference suddenly feels just around the corner. As if our schedule weren't exciting enough already … we are thrilled to announce a few late additions to the line-up:
Lynn Jensen, a registered yoga therapist and founder of the Seattle-based Yoga for Fertility, is offering Yoga for Women's Health: Balancing Chakras, Balancing Hormones. This workshop will explore how your yoga practice can support the hormonal system and address many common symptoms of imbalance, including PMS, cramps, fertility issues, hot flashes, adrenal depletion, and more. Participants will learn concrete tools for teaching or tailoring a personal yoga practice.
Release the acrobat within at our dynamic AcroYoga session! Robin Martin and Thomas Eagan will lead students of all levels in this workshop designed to introduce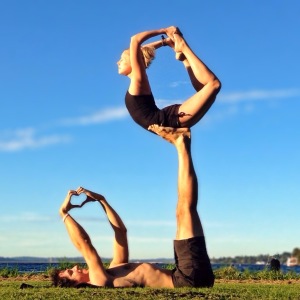 fundamental principles and techniques of this unique style. Learn the building blocks to become a stable and supportive "base" and a dynamic and graceful "flyer." Spotting skills will be emphasized, so that everyone feels safe trying new things. No partner necessary: Come as you are, for a playful and empowering practice!
Stephanie Sisson will take us back to basics in Chaturanga: Breaking It Down. Love it or hate it, chaturanga dandasana is a staple in most vinyasa and flow classes. It is rarely taught, however, and can become a source of frustration or even injury if not understood. The workshop will build a solid foundation for the pose through breath and the bandhas, and will explore transitions into and out of the pose. Get ready to have fun and leave feeling strong!
Lisa Black , founder and director of Baptiste Affiliate SHAKTI Vinyasa Yoga, will be leading two recently added offerings: Discover Your Voice and Take Your Seat as a Teacher and Foundations of Flow. Lisa has been featured in Yoga Journal, including a March 2008 article highlighting her as one of the most "talented upcoming yoga teachers in the country." She brings her extensive training and more than 10 years of teaching experience, and we are excited to add her to our list of gifted local teachers.
Discover the tools to stop wasting time in this wild and precious life, in Krishna's Time Management System. Using the Bhagavad Gita and the Seven Habits of Highly Effective People by Stephen Covey as a guide, Andrew Tanner focuses on unearthing your personal dharma to help you create achievable goals and make your dream life a reality. (No prior knowledge of the texts is necessary.) At the end of this workshop, you'll have a live dharma statement and the next week of your life planned for ultimate dharma action toward your financial and personal dreams.
In Studio Ownership: Create and Maintain Success, Andrew Tanner uses real-world examples and business strategy to explore studio ownership. Learn valuable tips for finding the right space, managing and hiring teachers, and smart pricing and scheduling. Andrew will share his know-how about what works and what doesn't, developed through his 12 years of experience owning, selling, operating, and consulting for yoga studios. If you want to open a studio, already own a studio, or want to treat your yoga business as a virtual studio, this workshop will help you not only be successful but enjoy the journey!
Finally, if you are looking for ways to build your business, don't miss Social Media: Harnessing Its Power as a Yoga Teacher, led by our very own Conference Director Melissa Hagedorn. Social media can be a powerful resource—if you know how to use it correctly. Melissa will share insights from her years of experience promoting the Northwest Yoga Conference. Participants will review a variety of social media sites to discover what elevates a page or profile from average to great, and discover answers to questions such as: Which platforms should I use? Who is my target audience? Should I advertise? And … How can I manage my time so that my social media accounts aren't managing me?
Many of our workshops have already filled to over 50 percent capacity. Register soon to ensure you get the workshops you want! 
Already registered, but want to include some of these new offerings in your schedule? No problem! Make changes to your schedule any time before the end of February.