Back to Basics: Interview with Maty Ezraty
by Jill Greene
I was moving too quickly the day I had originally scheduled this interview with senior teacher Maty Ezraty, who founded and directed the YogaWorks studio and Teacher Training program for more than 16 years. Caught up in activity, I forgot to double-check the time difference between Seattle and Hawaii, where Maty now lives—and I missed our appointment entirely!
When we did finally connect, Maty was gracious about my mistake and full of wisdom. Perhaps not coincidentally, our conversation included several reminders of how important it is not to lose sight of the fundamentals, in a modern world that's moving at the speed of light.
You're offering an all-day intensive this year on "Making Your Practice Whole." What does it mean to make your practice whole?
In today's world, yoga is practiced a little bit more for physical reasons. Making your practice whole is about exploring the bigger picture: your attitudes, the way the mind works, what your intentions are. It means looking at yoga from a holistic perspective, less from a strictly physical point of view.
For a number of years, you have been practicing vipassana meditation in addition to yoga. Is that compatible with this idea of making your practice whole?
Yes. I think meditation is mandatory, if you are a serious seeker of spirituality. Asana will only take you so far. It's so important to study your mind in other venues. Meditation is as good as it gets.
You have been teaching yoga for 25 years. How have you seen the teaching of yoga evolve in America over that time?
Yoga today is a little mixed up with fitness. Not that there's anything wrong with fitness, but it doesn't allow you to go deeper in understanding your inner dynamics, your self, your mind-space. If you have the music on, and everything's about feeling good, looking good … it's artificial.
Unfortunately, in the last decade, we've seen business people take over yoga schools. And they really don't understand yoga—half of them don't even practice it. We have so many teacher trainings taught by people who haven't been doing yoga long enough. So we're creating a new generation that's doing yoga poses, but in a fitness manner. It's diluting yoga. It's a lot easier to sell, because when you're required to observe your mind and look at your stuff, it's harder!
I think a lot of people are being promised that they can become yoga teachers, but it's really difficult to make a living teaching yoga today. Of course it depends on the individual and what they know … but it should definitely not be something that you do lightly. I would never advise someone to give up a career to teach yoga, because most teachers today are struggling. Sometimes what you love to do is not necessarily what you should do for a living.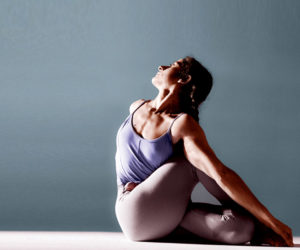 If you could give one piece of advice to a new teacher today, what would it be?
Stick to why you decided to do yoga in the first place, and teach from there. I did not seek yoga for a profession, when I started studying. I came for a deeper, soul searching. That's the place to teach yoga from.
When you're a new teacher, you're told you need a 200-hour certificate to teach anywhere. What does that have to do with anything? You can do 200 hours of good training or 200 hours of no training. Some people can retain an enormous amount in 200 hours, and other people can't. So we have this arbitrary number of hours. We've got a problem.
In the old days, you had to get permission to take the Yoga Works teacher training. Somebody watched you practice. The first day of teacher training, I could teach shoulder stand. Everybody knew the fundamentals. They knew that in trikonasana the leg turns out, and the knee faces the second toe. I have students now who have never heard that before.
But it's not the students' fault! I don't even think it's the teacher's fault. It's the owners and the companies that are pushing numbers, pushing fitness, pushing Twitter, pushing websites … and they're overlooking good teachers.
It's also the consumer. It's really a society problem, and it's going to take courageous people to do things in a different way.
What can we do to change things?
Practitioners need to be educated and to buy the right workshops, put their money in classes and in trainings that offer something else. Request them: "I want classes with less music, I want more restorative yoga, I want more pranayama."
And as an owner, you really have to walk that line in a smart way. Because you have to bring people along. It takes experience. It's totally doable, but everyone's just going too fast.
This practice takes time. You need at least 7 years before you're pretty good. You should have at least 10-15 years under your belt before you teach and train people. You've got to be really strong in your own understanding. Otherwise you just give in to the students, because it's too hard.
My best students and my best teachers assisted me for years. And came to class, over and over again, for years. There's nothing wrong with a 200-hour training, if you then have somewhere to go and apprentice, under someone who's really got it. That'll work.
Do you see any glimmers of hope?
The last time I taught at a yoga festival, I had a teachers' class. It was a really large class, 120 students, and I did basics. I walked out of that class high as a kite. These teachers wanted to learn, they were hungry, and they were getting it. It was exciting. There was no music, and their eyes were wide open and they wanted the information.
So yes, I have hope. But it's going to take a community effort.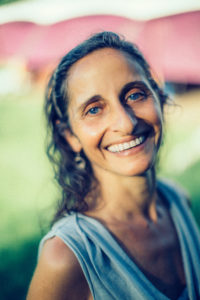 And our own self study – is that a part of this?
Absolutely. That's why I said that meditation is really critical. Because at some point, the asana is just not going to take you that far in. It can't—it was never meant to. It's only a pillar, a limb, a part of the process. It's really just making you healthier so that you can do the deeper work.
I think many of us aspire to have an individual practice as long and fruitful as yours. What advice do you have for us as we look to the future?
What you do in your 20s, you're not going to be able to do in your 50s. The more you understand that from the beginning, and the more you develop a really caring practice, the more you will appreciate the basics. So when those more fancy poses go away, you'll have less suffering. You will see the benefits of the simplicity of it all.
The way that our lives are structured today, we put our old people in homes and we may not live next to our families, so we grow up without seeing that aging process up close. It's not so real for us. We think that we're always going to be like we are today, but things change. So it's about the simple things: just lying down on the ground, feeling the earth and realizing how precious that is. How many people in the world never walk barefoot, never lie down on a flat floor and just close their eyes and breathe?
It's going to come to that for each and every one of us, at some point. Standing on your head? Intense arm balances? Eventually it just doesn't work anymore. But if those expectations are not there, and the simplicity is applied, and savored, then it's a wonderful thing.
At the end of the day, you have to know this practice, personally, for yourself, without the teacher. It's got to get to that.
Spend the day with Maty Ezraty during her Make Your Practice Whole yoga immersion at the 2018 Northwest Yoga Conference.